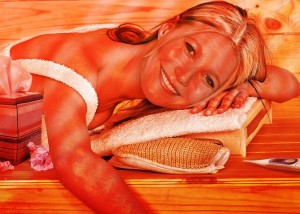 Lots of people have never heard of red light therapy (or any low level light therapy, or LLLT) before. A lot of us are wondering…what does red light therapy do?
Here I'm going to explain some of the effects of red light therapy.
Red Light Therapy Increases Circulation
There are multiple studies showing red light therapy increases circulation and aids in the formation of capillaries. Now, improved circulation is not just a benefit for those with poor blood circulation. Especially as we age, and in some medical conditions like Lyme disease, poor circulation contributes to the cosmetic and health problems people experience. For instance, one of the reasons skin shows signs of aging is because as we get older, blood circulation to that area is not as good. Improving blood flow to the skin helps bring cells the oxygen and nutrients they need to carry out regenerative and repair processes. Equally important, it transports waste products away from the area so they may be eliminated by the body. This makes good circulation beneficial for many purposes, from weight loss to wrinkle reduction to joint pain. Improving blood flow helps more than just the cardiovascular system.
What Red Light Therapy Does: It Increases Lymph Circulation and Drainage
Similar to having healthy blood circulation, there are many health benefits to having good lympatic circulation and drainage. There are even a few beauty benefits- improving lymph system activity with red light therapy or other forms of LLLT reduces swelling and puffiness.
Red Light Therapy Speeds Up Healing
There are many studies showing that red light therapy speeds up tissue healing.
Red Light Therapy and Some Other Forms of LLLT Stimulate Collagen and Fibroblast Production
Collagen is the protein most associated with plump, firm, young-looking skin. Over time (or sometimes, as the result of an injury), collagen weakens. Red light therapy and certain other forms of LLLT simulate the production of new collagen, which improves sagging, thin-looking skin, fine lines and deeper wrinkles. Collagen is also important in joint health.
Also important for skin rejuvenation and healing are fibroblasts. Red light therapy encourages the production of fibroblasts, which promotes healing and has great beauty benefits for the skin.
Red Light Therapy Energizes Cells
LLLT is associated with the release of ATP, a cell's most basic unit of usable energy. Since energy is often the rate-limiting factor in cellular processes, this additional energy can immediately be put to work healing and rejuvenating. There is plenty of scientific evidence showing this effect of red light therapy.
Red Light Therapy Stimulates the Removal of Pathogens and Cellular Debris
Red light therapy increases phagocytosis, the body's process of removing pathogenic bacteria and debris.